Rigol DS1000Z Series Digital Oscilloscopes
Buy a new Rigol DS1000Z series oscilloscope and get ALL software options …
(deeper memory, record & replay, advanced trigger functions and serial-bus analysis)
… for FREE!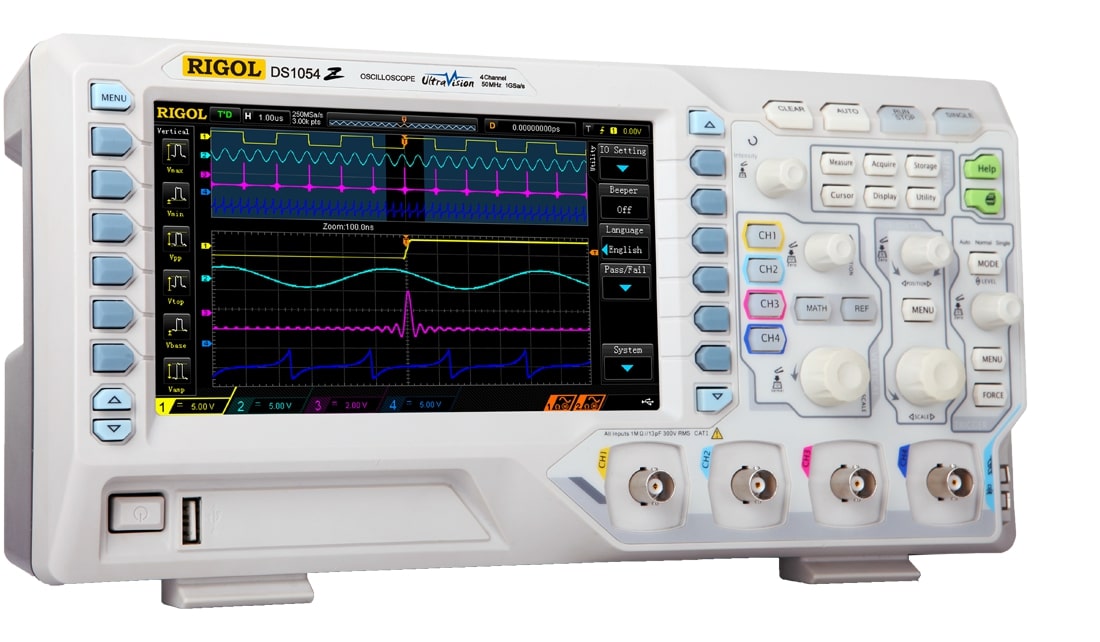 Bandwidth: 50MHz, 70MHz, 100MHz, 200MHz | Channels: 2/4 + 16 (Opt) | Max Sample Rate: 1GSa/s
4 Channels As Standard
12Mpts Storage Depth
Hardware Waveform Recording and Playback Function
Serial Bus Triggering and Decoding
Digital Fluorescent Display
Mixed Signal Analysis Capability
Two 25MHz Signal Sources
The 1000Z Series is RIGOL's Digital Oscilloscope platform for Basic Visualization. It offers unprecedented value in customer applications with its innovative technology, industry leading specifications, powerful trigger functions and broad analysis capabilities. The 1000Z Series 4 channel oscilloscopes come in 50, 70, or 100 MHz versions with a 7 inch display and RIGOL's UltraVision technology. It also includes the 200 MHz, 2 Channel DS1202Z-E model. The "-S" models include a 2 channel integrated waveform generator and the PLUS models are upgradable to Mixed Signal Oscilloscopes with the purchase of the RPL1116 digital lead kit. All the analysis, decoding, deep memory, and advanced triggering capabilities are now included in this powerful scope at an exceptional price.
Model
Channels
Bandwidth
Max Sample Rate
Memory
Signal Generator
Waveform Refresh Rate
Price
DS1054Z
4
50MHz
1GSa/s
24 Mpts
N/A
30,000 wfms/s
£305.00
DS1074Z PLUS
4 + 16 Digital (Opt)
70MHz
1GSa/s
24 Mpts
N/A
30,000 wfms/s
£490.00
£359.00
DS1074Z-S PLUS
4 + 16 Digital (Opt)
70MHz
1GSa/s
24 Mpts
X2
30,000 wfms/s
£662.00
£522.00
DS1104Z PLUS
4 + 16 Digital (Opt)
100MHz
1GSa/s
24 Mpts
N/A
30,000 wfms/s
£617.00
£395.00
DS1104Z-S PLUS
4 + 16 Digital (Opt)
100MHz
1GSa/s
24 Mpts
X2
30,000 wfms/s
£790.00
£558.00
DS1102Z-E
2
100MHz (NEW)
1GSa/s
24 Mpts
N/A
30,000 wfms/s
£269.00
£249.00
DS1202Z-E
2
200MHz (NEW)
1GSa/s
24 Mpts
N/A
30,000 wfms/s
£306.00
£294.00
Model
Channels
Bandwidth
Max Sample Rate
Memory
Signal Generator
Waveform Refresh Rate
Price
DS1054Z
4
50MHz
1GSa/s
24 Mpts
N/A
30,000 wfms/s
£305.00
DS1074Z PLUS
4 + 16 Digital (Opt)
70MHz
1GSa/s
24 Mpts
N/A
30,000 wfms/s
£490.00
£359.00
DS1074Z-S PLUS
4 + 16 Digital (Opt)
70MHz
1GSa/s
24 Mpts
X2
30,000 wfms/s
£662.00
£522.00
DS1104Z PLUS
4 + 16 Digital (Opt)
100MHz
1GSa/s
24 Mpts
N/A
30,000 wfms/s
£617.00
£395.00
DS1104Z-S PLUS
4 + 16 Digital (Opt)
100MHz
1GSa/s
24 Mpts
X2
30,000 wfms/s
£790.00
£558.00
DS1102Z-E
2
100MHz (NEW)
1GSa/s
24 Mpts
N/A
30,000 wfms/s
£269.00
£249.00
DS1202Z-E
2
200MHz (NEW)
1GSa/s
24 Mpts
N/A
30,000 wfms/s
£306.00
£294.00